Background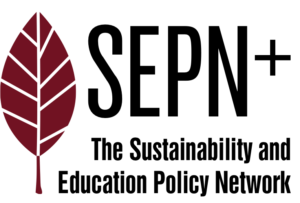 The United Nations recently launched a bold set of 17 Sustainable Development Goals (SDGs) that commit the world's leaders to ambitious programmes of action that will "end extreme poverty, fight inequality and injustice, and fix climate change."
Education is Goal #4, and is seen as a key feature of the post-2015 Agenda – challenging "cultures of unsustainability" and creating "education for the world we want." But as yet, there is no national or international policy, policy process, or policy analysis that demonstrates that the education sector for 2015 onwards is sufficiently focused, designed, or resourced to address such goals.
Prior to this (2005-2014), the UN sponsored a Decade of Education for Sustainable Development. From 2015 onwards, it is supporting a Global Action Programme (GAP), which sets out to reorient education and learning towards a stronger set of contributions to sustainable development, including strengthening the agendas, programmes, and activities of the education sector to promote sustainable development. The UN COP Conference on Climate Change (COP21) was held in 2015.
In short, in response to the SDGs, GAP, and COP21, nations around the world will be expected to realign their education sectors with policies that address local to global sustainability challenges.
About SEPN+
SEPN has established an innovative methodological toolkit for surveying and critiquing policy on sustainability and education in the formal education sector. To date, SEPN's work has been focused on sustainability and education policy in Canada – including studies of the 13 provincial and territorial Ministries of Education, 374 school divisions, and 220 accredited post-secondary institutions in Canada. Both SEPN and the toolkit have received much interest by researchers and policy analysts internationally, within and beyond education.
SEPN invites participation in an international, multidisciplinary, translational research project that is designed to create better research, policy, and practice in sustainability in education using a partnership-based approach, which includes:
An overarching methodological toolkit which includes a core set of methods, with adaptations determined based on local contexts
Common data collection processes to enable comparative research
Ability to inform monitoring of the SDGs and GAP priorities by sharing project databases with UN and UNESCO evaluation processes
Community development via dynamic, two-way policy maker-researcher collaboration
Commitment to integrate Indigenous perspectives and considerations throughout the research
Innovative postgraduate training deeply integrates students, postdoctoral fellows, and emerging scholars into research activities
Vision
Maximize two-way flow of knowledge between researchers and non-academic partners
Develop rigorous comparative, evidence-based understandings of sustainability in education policy internationally, nationally, and regionally
Mobilize research-based evidence to diverse stakeholders and decision-makers
Focus on people and relationships, with integrated partnerships among researchers, organizations, and policy partners
Share a dual focus on contributing to research literature in a range of disciplinary fields and having an applied impact on policy and practice throughout education systems
Current Partners and Collaborators
Current partners and collaborators include academic researchers and institutions in Canada, Australia, Sweden, Denmark, and New Zealand who are working alongside representatives from national policy organizations, as well as those in key multinational policy bodies focused on education and sustainability.

Join SEPN+
Work with SEPN to develop funding applications to build on and support the mandate of your organization/institution and further sustainability in education research internationally.
Contact SEPN's Director, Dr. Marcia McKenzie at marcia.mckenzie(at)usask.ca.