Mobilizing research into action is important, complex, and there is a major need for more effective knowledge mobilization (KM) within and beyond education. Too often, research communication uses inaccessible language, is irrelevant to the needs and interests of users, and is considered an "add-on" rather than an integral part of the research process.
It is important to start with how research communication is conceptualized and let this inform what techniques and tools are used. Too often, research communication focuses on the technical challenge of, "What tools and techniques can we use?" and less on the conceptual of, "How are we thinking about research communication and use?" SEPN's KM approach is informed by educational research on research use by policy makers, administrators, teachers, and other educational stakeholders.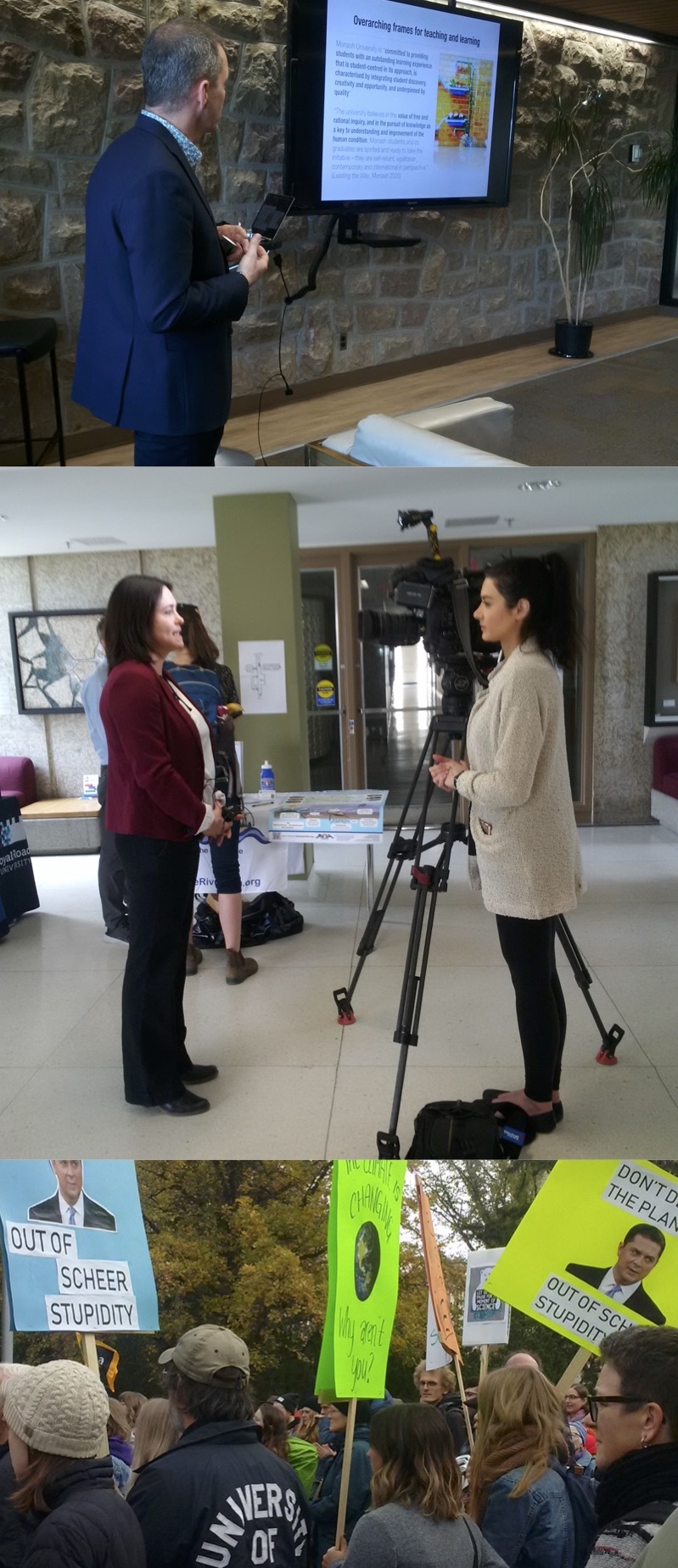 Knowledge Mobilization Principles
A partnership between policy makers, practitioners, and researchers
Integral to rather than separate from research
Involving indirect, informal, and mediated connections with research users
More about engagement and learning, than dissemination and transfer
Supporting research use that is instrumental (technical solutions), conceptual (informing and enlightening), and strategic (persuasive tools to legitimate practices)
Reflecting the concerns, interests, and needs of our audiences
Highlighting key messages in clear, creative ways, collaboratively developed with research users
Highlighting key messages in clear, creative ways, collaboratively developed with research users
Tailoring research outputs to audience needs
Supporting uptake and use of research outputs

Selected Impacts
SEPN is an international leader in comparative research on climate and sustainability education, and a go-to source for media on climate change education and fossil fuel divestment
SEPN has conducted an unprecedented scale of research engagement with policy makers, educators, the communication sector, and the public has supported decision making in many contexts. For example, Council of Ministers of Education of Canada has included SEPN data in their reporting to the UN on sustainability in Canadian education
Awarded the 2016 Global Award for Innovative Projects from the UN Regional Centres of Expertise on Education for Sustainable Development in recognition of its achievements
SEPN's dataset comprises 1,600 policy documents and journal articles, 925 interviews, 60 focus groups, 1,300 pieces of visual data, and quantitative data from 3,000 participants, including data collected from participants with an iPad app on their ratings of institutional sustainability
SEPN is committed to excellence in training, having trained 1 full-time Project Manager, 7 postdoctoral scholars, 12 PhD and 13 Master's students, and 32 Research Assistants and staff between 2012-2019.
Access our comprehensive archive of our scholarly publications, technical reports, research briefs, infographics, and methods documents and learn more about SEPN's impact.