In September 2017, SEPN hosted an International Policy Forum in Vancouver in advance of the World Environmental Education Congress (WEEC).  The two-day meeting brought together a range of policy-makers, organizations, and researchers to explore progress in monitoring, evaluation, and research of climate change and sustainability education policy across national and international settings.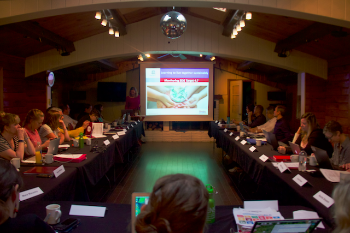 Day 1 included presentations from Mr. Kartikeya Sarabhai (Centre for Environment Education), Mr. Mark McCaffrey (EOS UNFCCC), Dr. KC Busch (North Carolina State University), as well as SEPN Director Dr. Marcia McKenzie and SEPN Co-investigator Dr. Alan Reid, on climate change education monitoring, evaluation, and research.
During Day 2, Ms. Julia Heiss (UNESCO), Dr. Aaron Benavot (University at Albany-SUNY & formerly UNESCO Global Education Monitoring Report), Dr. Molly Jahn (SDSN & University of Wisconsin-Madison), Ms. Rachel Drayson (National Union of Students), and SEPN's Project Manager Ms. Nicola Chopin, presented on current tools and approaches being used to monitor sustainability education more broadly.
Delegates discussed needs and gaps in current approaches, and brainstormed next steps for filling those gaps. We are pleased to announce the meeting was incredibly productive and be built on in future collaborations. Thanks to everyone who attended and helped make the event a success!