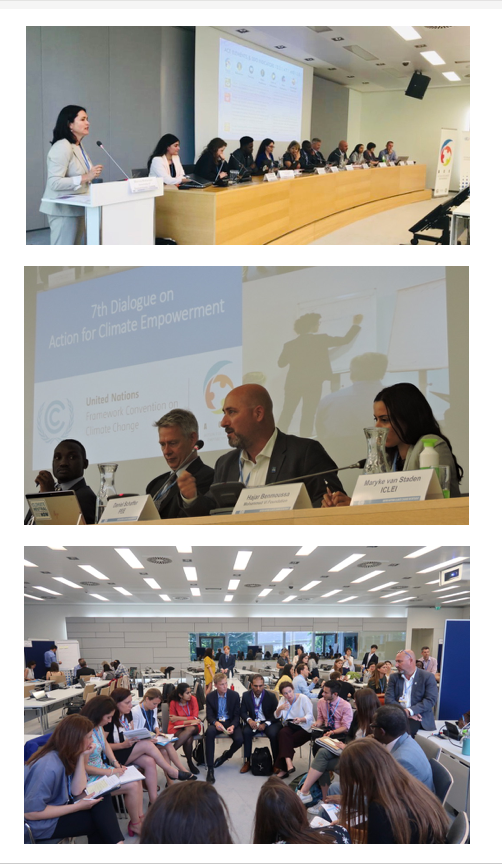 Country Progress on Climate Change Education, Training and Public Awareness
Project Overview
Climate change is the defining challenge of our time, and education is increasingly seen as an essential element for mounting an adequate global response. Education helps people understand and address the impact of global warming, increases climate literacy, encourages attitude and behaviour changes, and helps learners adapt to climate change related trends.
The United Nations Framework Convention on Climate Change (UNFCCC, 1992) recognises the importance of 'education, training and public awareness' in mitigating 'dangerous human interference with the climate system.' Reaffirmed by the 2015 Paris Agreement, UNESCO and the UNFCCC Secretariat promote climate change education, training, and public awareness, and support and guide countries in meeting their climate commitments. As of 2019, a total of 197 Parties are signatory to UNFCCC treaties.
The report, "Country Progress on Climate Change Education, Training and Public Awareness" provides a status update on the implementation of climate change education in countries across the world.
Methods
This study explores climate change education content in the most recent country submissions under the UNFCCC and Paris Agreement, specifically in relation to three climate change education-related Sustainable Development Goals (SDG) and six Action for Climate Empowerment priority areas. The study analyses the most recently submitted National Communications (NCs) and Nationally Determined Contributions (NDCs) available as of June 2018. A total of 368 submissions from 194 countries were analysed.
Key Findings
The results highlight key achievements and remaining gaps in climate change education that could be referenced for global reporting under the Sustainable Development Goal (SDG) framework, especially for indicators 4.7.1/12.8.1 and 13.3.1, and informs future reporting processes. Almost all countries included some climate change education content in their UNFCCC country submissions. Most content related to approaches to climate change education, and in particular in the area of 'public awareness.' At all levels of education, cognitive learning of climate change was more commonly discussed than social and emotional or behavioural learning.
While the reports on past actions from industrialised countries support a focus on education, training, and public awareness through the required inclusion of a chapter on education, this is not the case with reports from non-industrialised countries, nor with reports on future plans and commitments, which less frequently address education as a result. The latter in particular, with their role in setting targets and advancing action in relation to the Paris Agreement, are an important opportunity for furthering national and global action on climate change education.
Recommendations
In the future, countries could expand their activity and reporting to encompass a broader range of education approaches including: formal education, training, public access to information, public participation, and international cooperation.
Furthermore, a broader range of audiences for climate change education could be explicitly targeted, going beyond the 'general public' and 'formal education' sectors to also advance activity and reporting in relation to government, industry, non-governmental organizations, and the scientific community.
Countries could also consider incorporating social and emotional and behavioural learning approaches and outcomes into climate change education.
The study found there is currently minimal quantitative data in country submissions useful for national or global evaluation and monitoring of the SDGs. Advancing the quality and availability of quantitative data collected through country submissions would support setting and meeting more specific and ambitious targets for climate change education, both nationally and in UNFCCC reporting and SDG monitoring processes.
Building Climate-Ready Schools: Towards Identifying Good Practices in Climate Change Education
Project Overview
SEPN's evaluation of the Canadian portion of UNESCO's global climate action pilot program identified promising practices of climate action taking place in Canadian UNESCO Associated Schools Project Network using a whole school approach as a lens.
Click here to view the project's reports.
Methods
Data were collected from 10 pilot project participants through a 20-minute pre-interview survey, as well as semi-structured telephone interviews lasting between 45-60 minutes. An additional 17 non-pilot schools responded to a 20-minute survey to collect comparative data on current climate action practices happening in ASPnet schools in the absence of the pilot project.
Key Findings & Recommendations
The evaluation found that the 10 Canadian ASPnet "Getting Climate-Ready" pilot schools have made significant steps to help mitigate climate change. In addition, a total of 27 Canadian ASPnet schools provided data on a variety of exciting initiatives happening across Canada. In general, the results suggest that participating in the pilot did have effects on school governance, as well as on facilities and operations in the participating schools.
The many exciting climate action initiatives taking place in the schools provide an inspiring reminder of the power and promise of collective action the fight against climate change. These promising practices represent positive first steps towards 'good' climate change education. The evaluation recommendations for future whole-school climate change education projects include:
Connect to Indigenous perspectives
Expand beyond individual-focused solutions
Create a teacher's guide for incorporating climate change into all subjects
Develop an easily accessible online platform where schools can readily share ideas, problems, and resources