Influencing Canada's Education System
To implement knowledge that arises from basic research, dialogue and collaborations are needed that bridge between researchers, policy makers, educators, and the broader community. Researchers must link their work with stakeholders in ways that elicit significant action.
SEPN is premised on researchers linking with education policy makers and practitioners to discuss solutions and take action. SEPN is developing research-based, locally responsive analyses of exemplary sustainability policy and practice, which will:
Be developed based on integrative analysis of all collected data and build on pre-existing frameworks
Take into account regional contexts
Be presented back to strategic groups including key decision-makers with the aim of impacting policy and practice
Knowledge Mobilization Objectives
SEPN has three overarching knowledge mobilization and communications priorities:
Goal #1: Increase the use of research-based tools in policy-m

aking and practice within the education system

Goal #2: Identify points of entry for action on Canadian sustainability issues to mobilize target audiences through educatio

n

Goal #3: Increase expertise through multi-s

ector research partnerships and training
View SEPN's Knowledge Mobilization Engagement Guidelines.
Knowledge Mobilization Strategy
It is important to start with how research communication is conceptualized and then letting this inform what techniques and tools are used. Too often, research communication focuses on "What tools and techniques can we use?" and less on "How are we thinking about research communication and use?" SEPN's Knowledge Mobilization strategy is informed by studies on research use; specifically, educational research use from the perspectives of teachers, school leaders, policy makers, and other education stakeholders.
SEPN conceptualizes knowledge mobilization as:
A partnership between policy makers, practitioners and researchers
Integral to rather than separate from research
Involving indirect, informal, and mediated connections with research users
More about engagement and learning, rather than dissemination and transfer
Supporting instrumental (applicable to technical solutions), conceptual (informs and enlightens); and strategic (persuasive tool to legitimate a practice) research use
Reflecting the concerns, interests and needs of our audiences
Highlighting key messages in clear, creative ways, collaboratively developed with research users
Tailoring research outputs to audience needs
Supporting uptake and use of research outputs
Click on the image below to view/download a pdf version of SEPN's Knowledge Mobilization Strategy (12 pages):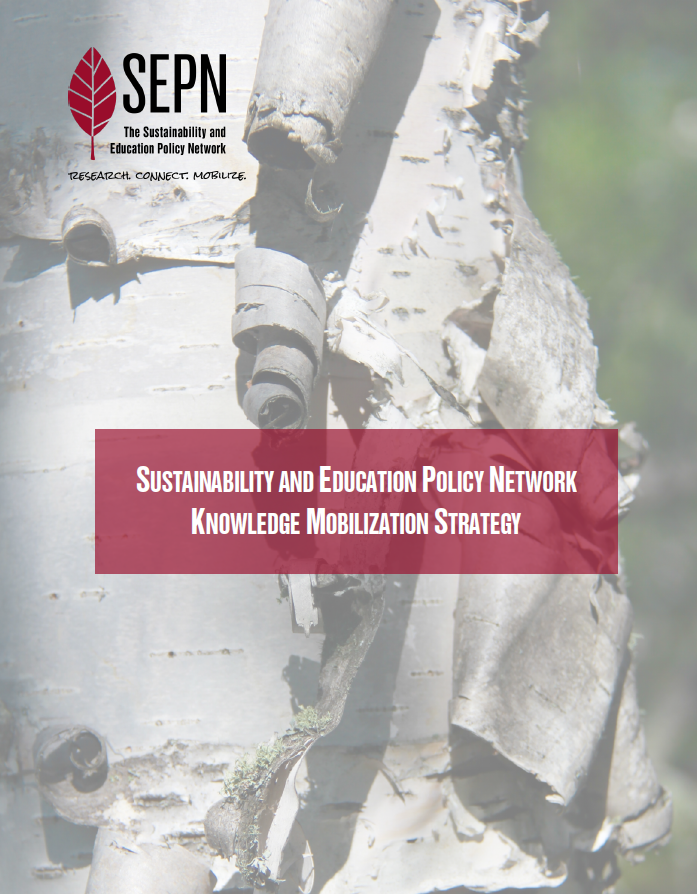 >