SEPN-Canada's in-depth examinations of how sustainability-related education policy and practice are being experienced at local, regional, and national levels by community members in multiple sectors included a series of comparative site analyses case studies.

Objectives
To examine engagement with sustainability in education policy and practice in Canadian Kindergarten-Grade 12 (K-12) and Post-secondary education (PSE) contexts. This includes examining:
Evidence of sustainability uptake in policy and practice in the study sites
The relationship between sustainability uptake  and sites' other priorities in policy and practice
The influences on the development and enactment of sustainability-related policy and practice in the study sites, including local and global influences
The relationships between practice and existing policy in sustainability uptake at the study sites

Data Collection
Data collection for SEPN-Canada's site analyses occurred between November 2015 and January 2017. Data were collected at 6 Canadian Ministries of Education, 10 school divisions, and 20 schools at the K-12 level as well as 6 PSE institutions. SEPN has also conducted site analyses research in the Australian provide of Victoria.
SEPN collected data in British Columbia, Manitoba, Ontario, Quebec, New Brunswick, and Nunavut. When selecting sites, Site were chosen to ensure regional representation, a range of sustainability uptake levels, and French language inclusion.
The research includes multiple qualitative research methods, developed to be as comparative as possible while also taking into account site-specific differences.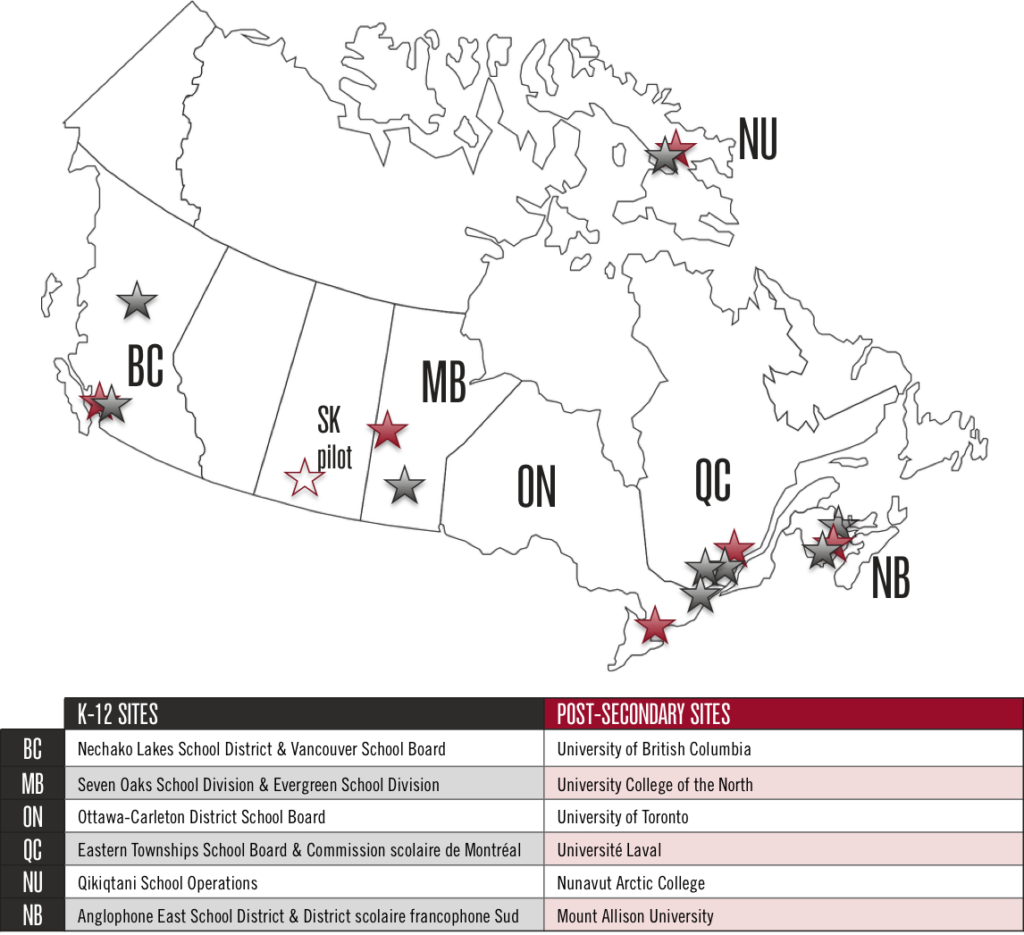 Data Collection Methods
K-12 Ministry Level
Individual interviews with 1-3 ministry staff or administrators as well as provincial and territorial sustainability edu-cation specialist associations, teacher's federations, and eco-certification program staff
K-12 School Division Level
Individual interviews with 1-3 administrators, sustainability staff (if applicable), and 1-2 trustees

1-2 conversation cafés with community members
K-12 Schools
Individual interviews with a principal or vice-principal, sustainability coordinator (if applicable), and 3-10 teachers

1-2 focus group classroom activity with students

Talking walls where teachers, students, staff, administrators, and visitors write their experiences with sustainability in the school on a large sheet of paper posted in a public location

5-10 minute sidewalk interviews asking teachers, students, staff, administrators, and visitors about their experiences with sustainability in the school
Post-secondary Institutions
Individual interviews with 1-2 board of governors members, 1-2 administrators, 3-6 faculty members, 1 sustainability coordinator, 1-3 sustainability office staff, and/or 1-2 sustainability committee members (as applicable) , 1-2 facilities staff, and 1-3 other key informants

1-2 classroom focus groups with students

Talking walls where students, faculty, staff, administrators, and visitors write their experiences with sustainability at the university on a large sheet of paper posted in a public location on campus

5-10 minute sidewalk interviews asking students, faculty, staff, administrators, and visitors about their experiences with sustainability in the school